Welcome to our tour of Grand Palm in Venice, FL!  We will share pictures of the new home community, Grand Palm, and some videos created by the builder, Neal Communities.
As you enjoy this virtual tour of Grand Palm on Flickr.com, you will notice that this is a community for people of all ages.
The first stop on the tour of Grand Palm is Rose Cottage 2, which might be a great option for retirement.  Rose Cottage 2 and has 2 bedrooms, 2 baths, 2 -car garage and 1,256 living sq.ft.  Check out Rose Cottage 2 and and see if this idyllic cottage is right for you.
Next, on the tour of Grand Palm is Gull Cottage 2.  This floor plan is very unique, as far as Florida homes go.  it is very quaint with a first floor porch and second floor balcony on the front of the house.  Gull Cottage 2 has 3 bedrooms, 2.5 baths, 1,663 living sq. ft., 2-car garage and is a two-story home.
Another great option is the Splendor 2.  This home is a two-story home with 2,053 living sq. ft., 3 bedrooms, 2.5 bathrooms and a 2-car garage.
For even more floor plans and information on Grand Palm, please visit Neal Communities' Grand Palm site.  REMEMBER!  To receive our 2% Florida New Home Rebate, we must introduce you or register you at the community.  It is an easy process.  Just Contact Us to get started!
Venice Realty's Grand Palm Tour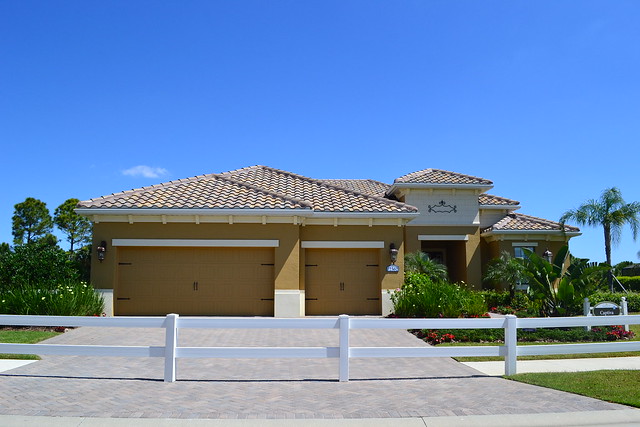 As you watched our Grand Palm Tour, you probably noticed all of the wonderful amenities Grand Palm Venice, FL has to offer.  The clubhouse is stunning and has two pools.  One of the pools is a resort-style pool with a water slide!  The other slide is great for swimming laps.  Grand Palm its very own dog park, too!  How fun for your dogs to run with other dogs and enjoy the obstacles provided in the fenced in area.  If you have children, grandchildren or friends visiting, there is a beautiful scenic playground with plenty of space for the kids to run around and climb.  When they get hot, right next to the playground is a splash area.  This community is a kid's paradise!
Neal Communities, builder of Grand Palm, has also included lots of green space throughout the community.  There are walking and biking trails and even a path to a little island area.  They thought of everything for homeowners to be comfortable and enjoy an active lifestyle in Grand Palm!
If you are interested in having a Grand Palm tour in person, please email Venice@VeniceRealty.com.  We would love to personally introduce you to Grand Palm Venice, FL and offer you our 2% New Home Rebate!
Disclaimer:  Floorplans, home pricing and special offers can change or update at any time.  Please contact us at newhomes@venicerealty.com for the most up-to-date information.